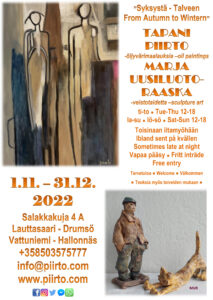 1.11. – 31.12.2022
Tapani Piirto:
"From Autumn to Winter" –
Oil Paintings

Marja Uusiluoto-Raaska:
- Sculpture art
Come Autumn the light and colours of Summer fade …
For Tapani Piirto the windy atmosphere of Autumn only adds power and intensity to his art. The familiar and gently colourful shades of his paintings continue their journey towards light just like how Fall takes over Nature for a moment with its colours. Through his paintings the viewer gets an opportunity to recover from the chill of Autumn and just enjoy the many faceted colours.
"I'm also very much inspired by music, literature and nature. Especially the power of music guides my brush."
---
Featuring artist Marja Uusiluoto-Raaska, sculpture art.