Annual Summer Exhibition in Savonlinna
Tapani Piirto has exhibited his paintings in Savonlinna every year since 1998.
A TIME TO LOOK BACK Exhibition in 2023 was held from Jun 17th to Jul 31st at Kauppatori 4.
---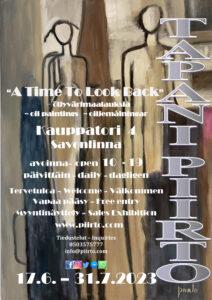 25. Summer Exhibition – sommar utställning
TAPANI PIIRTO – – "A Time to Look Back"
Oil Paintings
17.6. – 31.7.2023, Kauppatori 4, Savonlinna 57130
Daily 10-19
Welcome to the Summer of Savonlinna and my Exhibition!
Text: Hannu Ranta, journalist
"Sensual brown of coffee and milk, elegant dark blue"
The artistic world of Tapani Piirto is on its way to an even more reduced direction. His painting The Lovers is an excellent example of this. A couple emerges from it, rising from the background with everything essential concentrating in these two people. Only them.
In The Lovers you get a fascinating sense of brown of coffee with milk in it. Like through a wave of amagic wand one might immediately see a perfect place for that work. It would fit perfectly next to a dining table or on the back wall of a small cafe.
This year marks Tapani Piirto's 25th Summer Exhibition. For him, there's no Summer without Savonlinna.Savonlinna is important to Piirto also because it is a breather for him for a while. The artistic world and especially artistic work have taken Piirto in their grip so strongly that he often seldom takes a break from making art. Piirto paints practically throughout the year.
Often Piirto leaves the people in his works without faces: we can all imagine the faces in our minds. Thus, we become involved in the art process.
---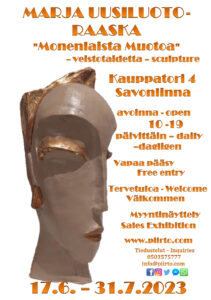 MARJA UUSILUOTO-RAASKA – "Monenlaista muotoa"
Miniature Sculptures  – miniatyrskulpturer
Marja Uusiluoto Raaska started her active career with arts in 2001 when she began to paint in oil. She was also involved with ceramics untill sculpture took position on her under the guidance of sculptor Sinikka Mäki-Lehtola in 2004.
During years her works of art have been presented in exhibitions in Helsinki, Turku and Naantali and also in four common exhibitions together with the artist painter Tapani Piirto in Savonlinna.
Her art is very special, strong, versatile and often very colourful too. In the beginning of her career her stylish women figures became all time favourites for art enthusiasts but soon total different types of both animal and human figures caught her interest. As a flexible and creative artist she changed her more conventional touch of art to different and more impressive style. Her works of art became more colourful and humorous with a hint of naivism. This kind of art is not very often presented in our country.
Marja Uusiluoto-Raaska was born in Helsinki 1949. She has lived in Turku since 1964.